3 Reasons It's Time to Reexamine the Calculators on Your Website
1) Your Calculators Should Have a Look that Complements Your Website
Did you inherit the calculators on your website? Are they dated? Are they restricted to a predefined box that does not complement the design of your website? Presentations like these do not represent your brand favorably. TCalc calculators are fully customizable, giving you control over the look that is your brand.
2) Provide the Service Your Customers Expect with a Full Set of Calculators
Are you truly meeting your customers' needs with only a few calculators?
A full set of calculators complements your products, prevents customers from leaving your site to find the calculator they need, and gives them a reason to come back to your site, again and again. Given how much you invested in your website, and our low prices, you should have the calculators your customers need and expect.
3) Your Calculators Should Generate Qualified Leads
If your customers are using your refinance, mortgage payment, auto loan, college savings, or other calculators, you should be generating qualified leads.
Does Your Bank's Calculator Selection Make Sense?
Given your customers' needs and your product mix, do you have the right calculators to service your customers' requirements? Our 45 calculators cover a full range of customers' financial questions and support your bank's products and promotions.
Your Products
Targeted Calculators
Home Loan Products ----------------→
10 Home Loan Calculators
Personal Loan Products -------------→
11 Personal Loan Calculators
Investment Products -----------------→
9 Investment Calculators
Retirement Products -----------------→
7 Retirement Calculators
Lease Products -----------------------→
8 Lease Calculators
The Home Loan Suite is Designed to Answer All of Your Customers' Mortgage Questions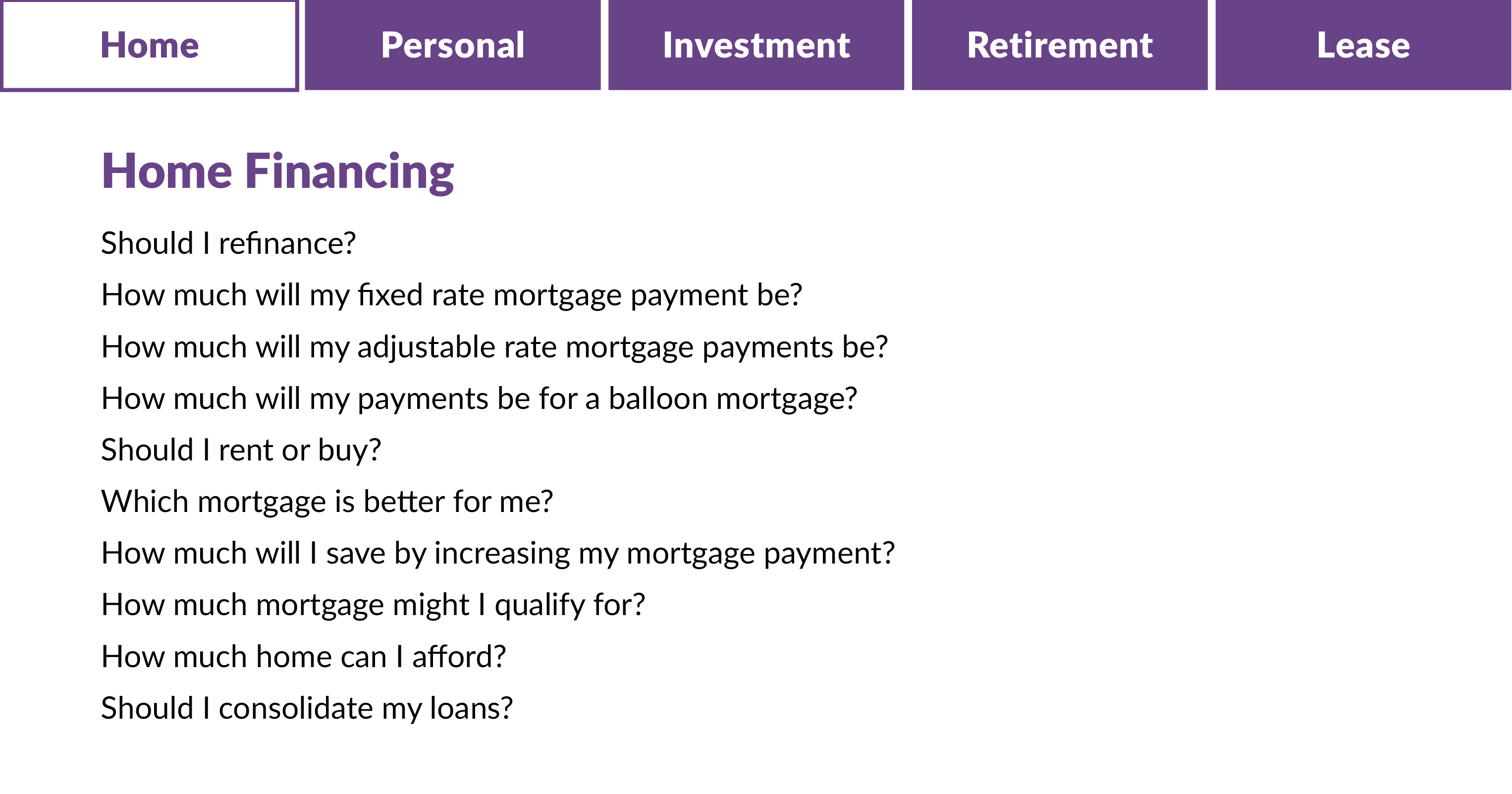 "Your team has been great to work with and you have a well thought out product. However, I especially appreciate your excellent customer service!"
"I can't say enough great things about my experience with TCalc Calculators. From the very first phone call, your customer service has been excellent. Quick replies on emails, quick follow-ups, and a step-by-step tutorial to help me trouble shoot. You have gone above and beyond."

"I've had TCalc on my site for over four years now. Your calculators are a great value. They are extremely useful and easy for my customers to use."

"We use your calculators and always found them to be easy and accurate. We think they are great.""
Take Advantage of It!
With our low prices and your ABA Member Discount, there's no reason to let your customers go to a competitor's website because you don't have the calculators they need. Take advantage of this special offer! Get all 45 calculators (best price) or select only the calculators you want.
TCalc calculators come with a one-year money back guarantee.