The TValue Family of Solutions
Let TValue Amortization Software Expand Your Financial Calculation Capabilities!
The most capable and trusted financial calculation solution since 1984.
Calculate Any Unknown
FLEXIBILITY FOR NEARLY ANY CALCULATION
Present or future value
Loan or payment amount
Deposits or withdrawals
Interest rate
Number of payments
Remaining balance
Down payment
Weighted unknowns
Balloon payment
APR – Truth in Lending (Reg. Z) disclosures
Discounted value
Forbearance
Account for Any Type of Payment
HANDLE IRREGULAR LOAN OR INVESTMENT ACTIVITY WITH EASE
Rate changes
Irregular payments
Interest only
Fixed principal plus interest
Skip payments
Amount step
Percent step
Balloon payments
Principal first/only (lump sum pay downs)
Select Any Compound Period
STRUCTURE YOUR CALCULATION WITH ANY COMPOUNDING OR COMPUTATION INTERVAL FREQUENCY
Exact days
Daily
Weekly
Bi-weekly
Half-month
Four-week
Monthly
Two-month
Four-month
Quarterly
Semiannual
Annual
Continuous
Computation Options
COMPOUND OR SIMPLE INTEREST AND MORE
Normal amortization (compound interest)
U.S. Rule (simple interest)
Rule of 78
Canadian amortization
Year length (360, 364, or 365 days per year)
30/360
Custom Reports
THE MOST WIDELY USED AMORTIZATION SCHEDULES IN THE WORLD!
Document irregular payments, balloons, and rate changes
Select any level of detail from summary to full schedule
Add APR Truth-In-Lending disclosures
Insert optional headers and footers
View totals at selected intervals by calendar or fiscal year-end
Print a limited date range
Export amortization schedules to Microsoft Excel and Word, and to PDF, CSV, and XML with one-click
"What a fantastic product. I have not been able to find anything it cannot do!"
"TValue software handles the unusual payments that no spreadsheet or calculator can."

"I love TValue. I couldn't live without it."
"TValue is head and shoulders above everything I've seen. It's a no brainer if you are in the financial industry."
Benefits of TValue Versus Excel
Error free calculations
TValue software calculations are based on embedded algorithms, not writing formulas. If the amounts and dates are right, you know that the calculations will be correct.
Flexibility for irregular payments
There is practically no limitation to the frequency, type, or amount of payments.
Quick "what if" calculations
You can quickly and easily do multiple "what if" scenarios in minutes and find the best solution. You can solve for either the interest rate, the payment, the loan amount, or the term.
Simple to complex calculations
From a simple loan payment to a present value of an intricate series of irregular cash flows, the calculation logic is built into the program.
Detailed amortization schedules
Professional, auditable schedules considered the standard in the industry.
Unlimited customer support
With the TValue Maintenance program, learn how to get the most from your TValue software from our "best in the business" professional support staff.
Which TValue Is Right for You?
The next generation of TValue reaches even higher levels of usefulness and flexibility. No matter how
simple or how complex your calculation, TValue lets you explore new levels of capability and ease-of-use.
You'll be challenged to find a calculation it can't handle!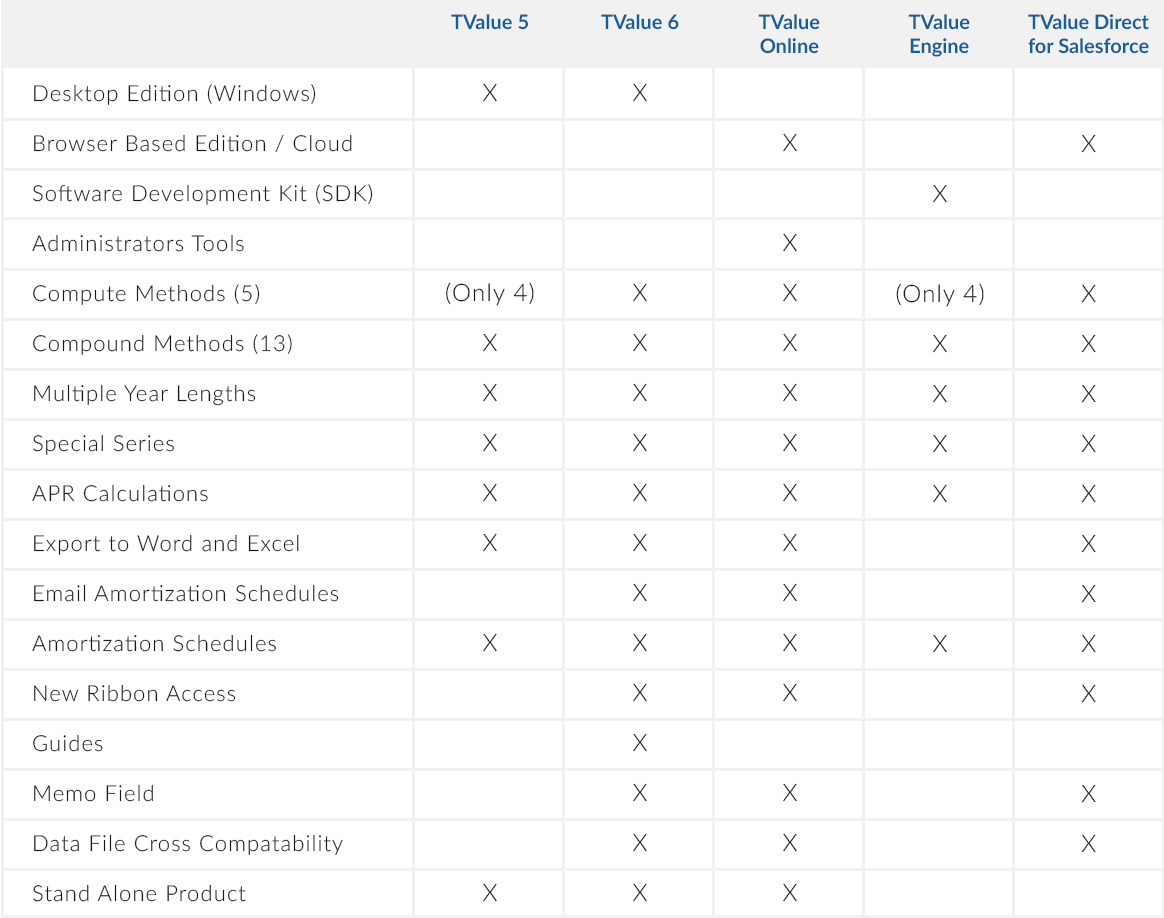 Watch a Short Video on the Capabilities of the Various
TValue Programs
Join us for an upcoming complimentary webinar on "Mastering Time Value of Money Calculations using TValue Software".
Earn FREE NASBA Certified CPE Credit. Register now.
Frequently Asked Questions
Can I use TValue on my Mac?
If you have access to the Internet, you can use TValue Online on your Mac or your iPad.
Will I be able to navigate easily with TValue 6 or TValue Online?
Both the new versions of TValue will have the familiar flow to the interface. Cash Flow events are used to input your dates and amounts and typing "U" will designate the unknown variable. The amortization schedules are even more professional looking.

Not sure which TValue Software solution is right for you?