TValue Software Solutions for Lease Pricing
The Professionals Choice for Calculating Complex Lease Terms
Since 1985, TValue has set the standard for structuring or restructuring loans and leases to meet cash flow requirements and has alliances with AACFB (NAELB), NEFA, and CFLA.
GET CREATIVE
MANY WAYS TO STRUCTURE WINNING DEALS
Designate payments in advance or payments in arrears
Structure deals with monthly skips, modified monthly payments, amount steps, percent steps, deferred payments, or rate buy-downs
Factor in residual values or buyouts
Calculate lease payoffs
Print detailed, custom amortization schedules
Calculate Any Variable
YOUR GO-TO SOLUTION FOR STRUCTURING LEASES
Calculate lease payments based on your desired yield
Determine payments and calculate your yield
Calculate both buy and sell rates
Calculate commissions and price them into the deal
Verify or determine rate factors
Get the detailed payment schedule that you can't get on your HP 12c calculator
ENDLESS POSSIBILITIES
CREATE WIN-WIN OPTIONS
Formulate "What ifs" to create the right lease payment structure needed to close the deal
Creatively structure the lease for your and your customer's needs
Quote pricing quickly, easily, and accurately as needed to close the deal

Adjust pricing as needed to fine tune your quote
RESTRUCTURING AND FORBEARANCE
YOU CAN TRUST TVALUE TO HELP YOU RESTRUCTURE LEASES WITH UNPARALLELED ACCURACY
Handle missed payments by extending the term
Do catch up payments for a period to get borrower back on track
Structure a forbearance or deferment payments for a period and keep your yield
Suspend interest during the forbearance or deferment period
Create a balloon to pay off the lease
Create step payments to give your customer time to get back to regular payments
CHOOSE YOUR WEAPON
MULTIPLE EDITIONS TO MEET YOUR NEEDS
TValue 6 is the latest rendition of the popular Windows-based desktop software
TValue Online is the cloud-based edition for all web-enabled devices – useful when you're in the field
The TValue Direct for Salesforce app integrates TValue calculations directly into Salesforce
The TValue Engine allows you to easily integrate proven TValue calculations into your application
"I don't know how anyone even attempts to be in the commercial equipment finance and leasing industry without TValue."
"TValue is head and shoulders above everything I've seen. It's a no brainer if you are in the financial industry."
"TValue is fast, flexible, user friendly, extremely accurate and ideal tool for the leasing professional."
Determine Your Best Pricing With TValue
FLEXIBLE, EASY-TO-USE
Activate payments in advance or in arrears. Solve for payments, balloons, rates, residuals, etc. Create amortization schedules. Does more than your HP 12c calculator.
STRUCTURE LEASES TO CLOSE THE DEAL
Develop "what ifs" to meet customer's needs. Structure cash flows from simple to complex. Produce creative deal structures to create win/win deals.
BE INNOVATIVE
Wrap payments around a customer's needs. Offer varying payment structures for the best solution.
Which TValue Is Right for You?
The next generation of TValue reaches even higher levels of usefulness and flexibility. No matter how
simple or how complex your calculation, TValue lets you explore new levels of capability and ease-of-use.
You'll be challenged to find a calculation it can't handle!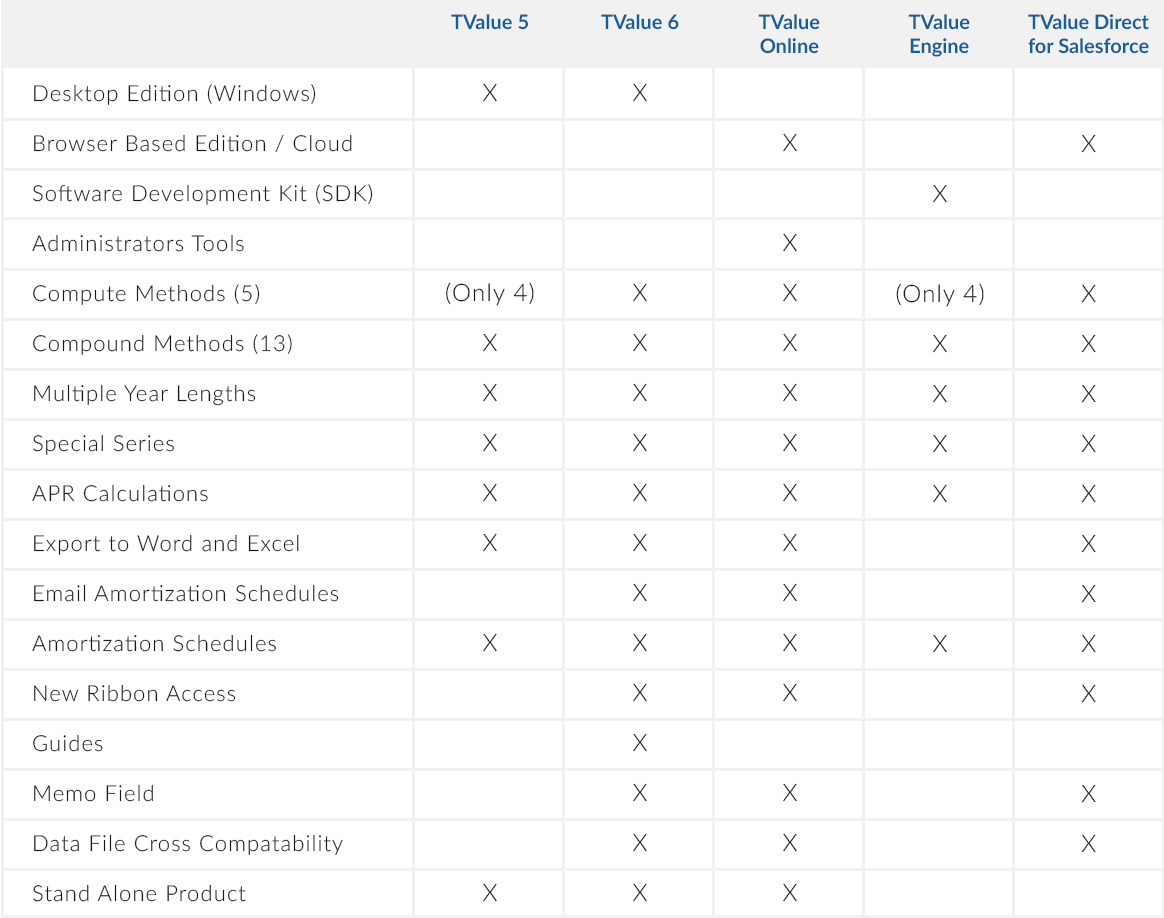 Watch Videos on the Lease Pricing Capabilities of TValue
Frequently Asked Questions
Can TValue handle payments in advance and/or residuals?
TValue has the flexibility to handle one, two, or three payments in advance with the weighted unknown feature and then fully amortize the lease. If you want to include a residual or a buyout, you can enter the residual amount before you solve for the payments.
Can TValue calculate the implicit rate on a lease?
Yes. Just enter the appropriate cash flows such as the lease, payments, and residual, and then type "U" for Unknown for the Nominal Annual Rate. The Nominal Annual Rate is the implicit rate or the yield on the lease.
Can TValue calculate a rate factor or determine the interest rate based on a rate factor?
TValue is a great solution to determine a rate factor or to figure out the interest rate or yield based on a rate factor. The rate factor is essentially a multiplier of the regular payments to the lease amount based on the deal structure. Once you have structured the lease, you can use your calculator to figure out rate factor percent or if you have the rate factor multiplier, you can figure out the rate.
Can TValue determine the commission I get on a lease?
TValue is an excellent tool to determine the commission on a lease. The commission is effectively the interest rate spread between the buy rate and the sell rate. In TValue, it is a two-step process of determining the payments with the sell rate and then inputting the buy rate to solve for the commission. It is quick and easy to do.
Can TValue handle deferred payments, interest only payments, stepped up or stepped down payments?
TValue has the flexibility to handle pretty much any irregular payments. You can do deferred payments that are either part of the yield or not. One of the features in TValue is the Special Series that allows you to do interest only payments, percent step or dollar step payments to structure the lease.
Products You May Also Like